Mid-May 2020
Shelter-In-Place: What Are People Doing At Home? Watching Netflix, riding Peloton, eating Beyond Meat burgers and… trading stocks!
In the U.S., retail trading platforms like Robinhood, Schwab and E-Trade have recorded blockbuster volume growth as people staying home now have a glut of time and are using it to trade stocks. This trend is more extreme in Asia. Even Pre-COVID, many Asian markets had significant retail participation. In a SIP world, with more people at home, retail participation in Asian equities has exploded. Several exchanges and brokerage firms have cut market charges and commissions for retail investors, further incentivizing them to trade. For example, in Thailand, retail participation has increased from 27% to 48% as the Thai exchange made it easier and cheaper for retail investors to open accounts and trade. Many other Asian countries have seen the same trend, as summarized in the chart below.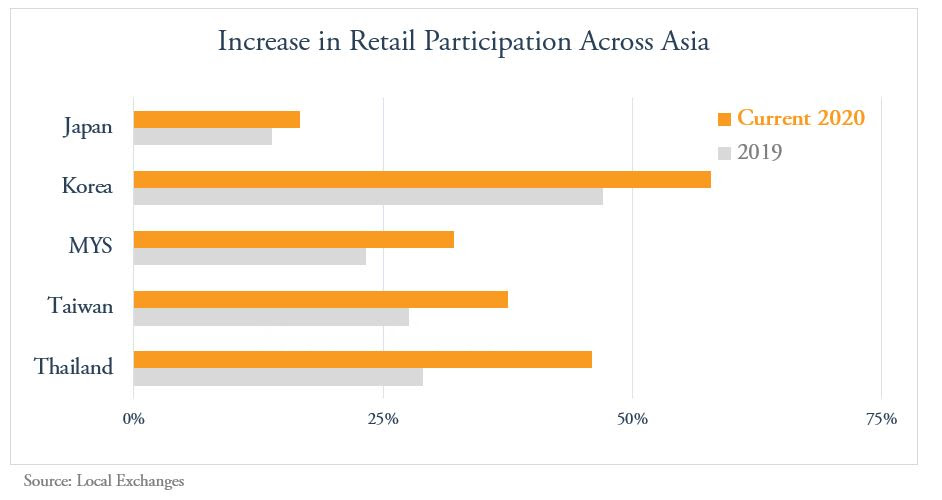 An interesting point of note is that retail investors across most of Asia have been net buyers of equities, absorbing the selling pressure from foreign investors that have significantly withdrawn from the region. For example, in Taiwan, retail investors have net bought over $23B of equities while foreigners have net sold about $20B of Taiwanese equities over Jan-May 21. Retail investors have been supporting the markets through this high level of buying activity.
The stocks being bought by retail investors have witnessed significant rallies. Our research shows that on average, retail investors buy small cap, high beta and volatile glamour stocks. They generally prefer to buy stocks that have lottery-like characteristics, i.e. a small probability of a huge outcome. Their recent trades have exhibited the same patterns. This can be seen in the performance of small cap high growth stocks that are listed on secondary exchanges (and are usually not eligible for listing on the main exchange, given their size, liquidity and volatility characteristics). For example, in China, the ChiNext Index has outperformed the CSI300 Index by over 20% so far.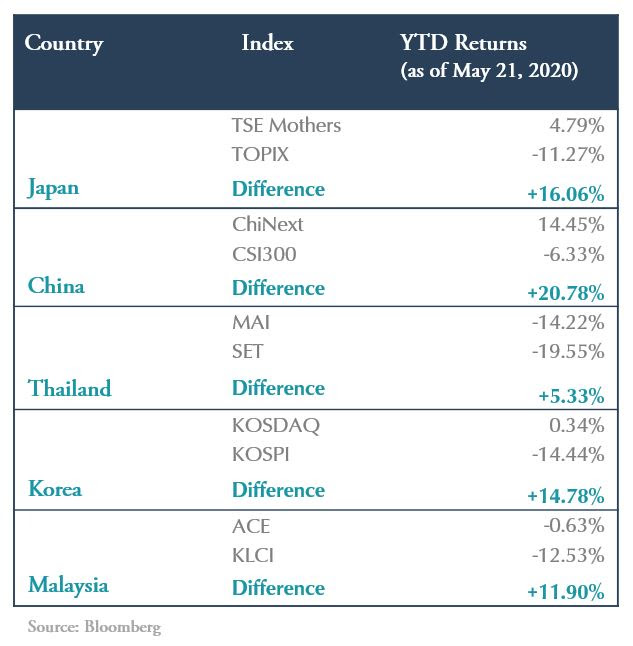 If retail investors continue to be large net buyers of stocks, we could witness a sustained rally in these small cap high beta stocks, pushing their already inflated prices further away from fundamentals. This phenomenon creates an attractive opportunity for our strategies. If you would like to learn more about how we harness inefficiencies in Asia, please reach out to info@nipuncapital.com.
Index Definitions:
| | |
| --- | --- |
| Tokyo Stock Exchange MOTHERS Index | The Tokyo Stock Exchange Mothers Index is a capitalization-weighted index of all stocks listed on the Mothers Section. Mothers is one of Tokyo Stock Exchange's sections or markets, where the shares of startup companies are listed and traded. Its name is said to come from an acronym of "Market of the high-growth and emerging stocks" |
| Tokyo Stock Exchange Tokyo Price Index TOPIX | The TOPIX, also known as the Tokyo Stock Price Index, is a capitalization-weighted index of all companies listed on the First Section of the Tokyo Stock Exchange. |
| ChiNext Index | ChiNext Index comprises the 100 largest and most liquid A-share stocks listed and trading on the ChiNext Market of the Shenzhen Stock Exchange. ChiNext is a NASDAQ-style subsidiary of the Shenzhen Stock Exchange. |
| Shanghai Shenzhen CSI 300 Index | The CSI 300 Index is a free-float weighted index that consists of 300 A-share stocks listed on the Shanghai or Shenzhen Stock Exchanges. |
| Taiwan Stock Exchange Weighted Index | The TWSE, or TAIEX, Index is capitalization-weighted index of all listed common shares traded on the Taiwan Stock Exchange. |
| Taiwan TPEx Exchange Index | The TPEx Exchange Index (formerly known as GreTai Securities Market Index) is a capitalization-weighted index of stocks are listed TPEx Securities Market, an OTC market that acts as a feeder market for the Main Board |
| Korea Securities Dealers Association KOSDAQ Index | The KOSDAQ Index is a capitalization-weighted index that measures the performance of the KOSDAQ market, an electronic market similar to the NASDAQ in the US |
| Korea Stock Exchange KOSPI Index | The KOSPI Index is a capitalization-weighted index of all common shares on the KRX main board. T |
| FTSE Bursa Malaysia ACE Index | FTSE Bursa Malaysia ACE Index is a market capitalization weighted index that comprises all eligible companies listed on the ACE, a mrket for start up and high growth companies |
| FTSE Bursa Malaysia KLCI Index – Kuala Lumpur Composite Index | The FTSE Bursa Malaysia KLCI Index comprises of the largest 30 companies by full market capitalization on Bursa Malaysia's Main Board. |
| Stock Exchange of Thailand SET Index | The Bangkok SET Index is a capitalization-weighted index of stocks traded on the Stock Exchange of Thailand. |
| Thailand Stock Exchange MAI Securities Trading Index | The Thailand Stock Exchange MAI Securities Index is a market capitalization weighted index of all eligible common stocks trading on the Market for Alternative Investment |
Disclaimer:
While many of the thoughts expressed in the attached materials are stated in a factual manner, the discussion reflects only Nipun's beliefs about these investments and the related markets.  These materials may contain forward-looking statements based on Nipun's expectations and projections about these investments.  Those statements are sometimes indicated by words such as "expects," "believes," "will" and similar expressions.  In addition, any statements that refer to expectations, projections or characterizations of future events or circumstances, including any underlying assumptions, are forward-looking statements.  Such statements are not guaranties of future performance and are subject to certain risks, uncertainties and assumptions that are difficult to predict.  Therefore, actual returns could differ materially and adversely from those expressed or implied in any forward-looking statements as a result of various factors.  The attached information was prepared as of the date hereof, and may be different as of the date you review it.  Nipun and its affiliates undertake no obligation to revise or update any statement in these materials for any reason.